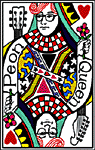 Peon Queen
In 1993 when Karen lived in Champaign, Illinois, she gathered a group of friends to record her debut album at Pogo Studios with producer Mark Rubel. The songs featured are a diverse and retrospective collection of original material. Only 500 copies of the red plastic cassette tape were pressed and many were given away as part of a promotional effort to circulate the music.

After Karen moved to San Francisco in 1997, Rubel mailed Karen the DATs of the original mixes, along with the single "Pink & Blues" (see below) Karen transferred the DAT to disc, and most recently made the album available on CDBaby, and iTunes.

Read about the many talented players who appeared on the album.